Digital cameras have simplified many aspects of the photographer's craft but the old adage rings as true as ever – by far the most important piece of photographic equipment remains the photographer himself.
No camera, however sophisticated, can replace a professional photographer's eye for composition, awareness of light and sense of the right moment. His or her cameras and lenses are merely the tools to give form to his training, experience and vision – much like a painter's brush and canvas. The kit must be good and usually is very expensive, but unless it's in the right hands, even the best equipment won't produce the "wow" factor that gives a picture that special look and feel which leaves no doubt the shot was taken by an experienced professional.
Ed Holt could well have become a painter like his father but it was when studying at Guildford in West Surrey that he leant towards an initial career in fashion photography, later opening his own London studio. His first trip on a yacht to La Coruña kindled his love of the sea and a natural penchant for marine photography.
Before long he had bought his first boat, a Cornish crabber that during the early Eighties he drove overland from Hook of Holland to Greece, where he lived on and off for eight years, alternating photographic jobs with chartering his own 42-foot sailing yacht,
Boucanier
.
Ed eventually discovered why a native of landlocked Oxfordshire felt such a natural affinity with the sea. "When my grandfather and father died, the family papers were passed on to me and revealed more than I knew at the time. As it happens, my ancestors were shipbuilders at the time of Captain Cook."
He worked in Suffolk for a while but life in the UK wasn't for Ed. "I felt I was stagnating and I wanted to be where the yachts were." That place turned out to be Mallorca where he lived and worked for 18 years before moving to the Côte d'Azur five years ago.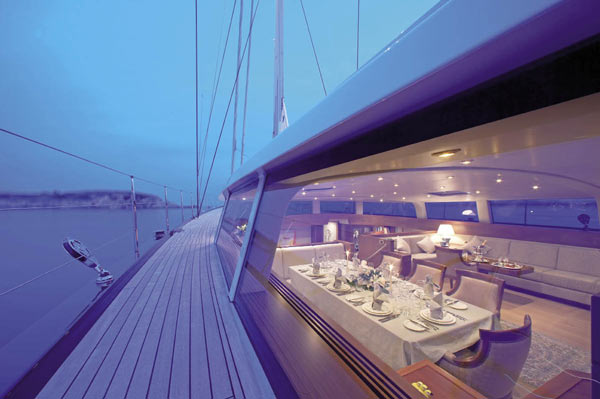 "There's a lot to be said for having learnt the basic technical aspects of photography before the digital revolution came along. The fundamentals became second nature in a way that can only come from a degree of hands-on experience and formal training. I know how to shoot in full manual and can gain more control over the final result than any automated camera ever could."
Apart from the technical essentials of his craft, Ed has developed the lifelong habit of all successful photographers – contemplating the work of those he admires. Still today he scrutinises the masters – Ansel Adams, Bill Brandt, Yousuf Karsh, Elliott Erwitt and others. "The documentary photography of Dorothea Lange and Robert Capa can still teach us about the importance of what Henri Cartier-Bresson exemplified in his seminal collection
The Decisive Moment
. If that moment isn't instinctively captured at the split second it happens, it is gone forever." (Ed's initial interest in fashion photography still draws him to the work of Annie Leibovitz and Brian Duffy.)
Photographing a yacht sometimes requires an organised formal approach, especially for deck and interior shots. About 30% of Ed's work is on sailboats and the rest is motor yachts. "Even for charter shoots, I like the crew to set up the boat as the owner would want it. This is, after all, his home for part of the year and the photography should reflect his lifestyle to some extent."
Yachting is big business, especially on the Riviera, so budget comes into play on some shoots. But Ed also knows that you can't cut many corners if you want the best result. "These days, a helicopter is important for many shoots. Flight time with a good pilot doesn't come cheap but the results are there in the end," he declares. You don't shoot a yacht in a few minutes and a 50-metre yacht needs at least three days to organise.
Travel can also be an important part of a yacht's photography budget. "Yachts are mobile and don't always sit outside my window in Antibes waiting for me to walk on board with my cameras. Sometimes I have to travel to where the work is." Two days after this interview, Ed was off to Turkey to shoot a new yacht for a shipyard.
Copyright is a common source of misunderstanding. Like with all creative processes the paying client doesn't always comprehend the basis of creative ownership and subsequent rights for use of the photography he commissioned. "In principle my photography is meant for the promotion, sale or charter of a yacht. Sometimes it's for the owner's personal pleasure or for a shipyard brochure or website. It's not for the client to pass on without my permission for possible use in an unconnected way that might not have anything to do with the initial purpose. That being said, copyright terms can usually be negotiated."
Ninety percent of Ed's work comes from satisfied former clients or by reputation. A look at his professional image library at
www.superyachtfocus.com
demonstrates why. His personal website is at
www.edholtphoto.com
or contact him at
This email address is being protected from spambots. You need JavaScript enabled to view it.
All photos © Ed Holt