We're all awash with paperwork, some of it important and some of it extraneous.
In France the normal limitation period (délai de prescription) in legal matters is 5 years so any documents relative to court cases should be kept at least that long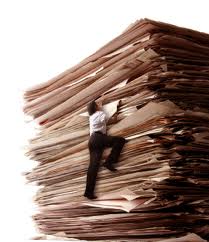 Here's a list of how long you should conserve some other important documents.

Insurance
Policies and receipts: 2 years
Household and car insurance : length of the contract plus 2 years
Civil responsibility insurance documents: 10 years
Life insurance and death insurance: length of the contract plus 10 years

Car
Tickets (PVs): 3 years from the date of the ticket
Invoices for purchase and repair: for as long as you still own the vehicle.
Sales documents: 2 years

Banking
Cheques for deposit: 1 years + 8 days from the date on the cheque. Beyond this, the cheque is no longer valid.
Loan documents for consumer items: 2 years from the final payment date.
Mortgage documents: 2 years from the final payment date
Bank statements, transfer documents, cheque deposit slips, chequebook stubs: 5 years

Family
Birth certificates, marriage certificates, livret de famille: forever
Declarations of marital acquisitions (acquis lors du mariage): forever
Benefits papers (allocations familiales): 3 years
Divorce papers: forever
Child adoption or admission of parenthood (reconnaisance): forever
Wills and testaments: forever

Lodging
Gas and electricity bills: 2 years
Water bills: 4 years
Telephone bills: 1 year
Chimney sweep certificate: 1 year
Heating maintenance certificate: 2 years
Deeds: forever
Correspondence with property management (syndic): 10 years
Lease: Length of the leas plus 5 years
Inventory for furnished accommodation;: the length of the rental
Rent receipts (quittances de loyer) 5 years

Taxes
Income tax declaration: 3 years from the year following the declaration period
Local tax documents (habitation & fonciere): 1 year or until the next declaration arrives

Work
Salary slips: at least until retirement
Other payment documents (and unemployment documents) : 5 years
Unemployment insurance declarations: 3 years
Pension receipts: until death

Health
Assurance Maladie reimbursement slips: 2 years
Top-up insurance documents (mutuelle): the length of the maximum payment delays (usually 2 years)
Medical prescriptions: 1 year from the prescription date (take with you when travelling to prove need of drugs)
Medical leave documents (indemnités journalières): at least until retirement
Work accident declarations and affiliated documents: for as long as any repercussions are likely
Vaccination certificates: forever
Xrays, MRI scans, diagnoses : forever, for patient history requirements

Papers of a deceased relative
As above in most cases except for medical history.