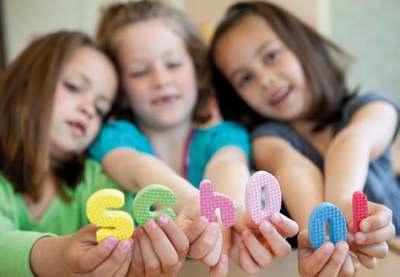 Going international
Our region is well served by international schools such as the three I write about here which have excellent reputations. A very significant part of their market is drawn from the expat community where parents want their children to have a broad international perspective similar to their own. That's rarely to be found among French teachers who tend to have an outlook which is firmly
franco-français
. "That's the problem," a British father once said to me. "I don't want my boy coming home saying Napoleon was a good bloke."
Mougins School
I spoke to Brian Hickmore who's been at the school for 27 years, 17 as head. (Mougins School will celebrate its 20th anniversary in 2015.) "Our big news, of course, is that with the opening of this school year we've got a brand new primary building with 12 classrooms. That will enable us to have double classes in years 3, 4 and 5. This September our total enrolment tops 500 with some 200 in the primary section. About one-fifth of our pupils are French. The strengthening of our primary activity is important to us as many who enter at that level stay with us right through to university entrance. Historically, we have a close relationship to the British system and our curriculum is mainly UK-oriented. French, of course, has an important role, with sessions four times a week.
"I'd stress two points. Firstly, we firmly believe that a happy child learns more easily and we aim to have an atmosphere that is serious but relaxed. Activities, which aren't strictly academic, play an important role, notably music, art and sport. Secondly as a non-selective school we need to be very alert to some pupils' special needs. As well as our overall special needs coordinator we have another member of staff who deals specifically with the learning difficulties of those at the critical primary level. It's at that time you can set a child off on the path to realising his or her full potential. Dealing with those special needs calls for special skills on the part of a human teacher. Today, of course, we have to find the right role for those new technologies which have largely replaced chalk and talk. They are very useful but need to be used with care and discretion."
International School of Monaco
ISM was founded in 1994 to serve the Principality's expanding expat community. Today it has some 500 students on roll representing 44 nationalities; of these 146 are in the primary section. I talked to Jenny O'Fee from rural County Down in Northern Ireland ("There were just 50 in my school") who heads up the section. She came to Monaco four years ago after eight years teaching in Italy.
"We're a bilingual school which means English and French are used for teaching on alternate days. That means a lot of effort all round but it seems to work well. Where the basic subjects are concerned we put a lot of stress on treating each child as an individual. This takes account of our students' varied backgrounds – coming out of Monaco's international community – and also of their likely specific futures in similar communities.
"Obviously, developing basic skills is the priority but we want our pupils to develop into well-rounded human beings. There's a lot of music, sport, and extra- circular activities, too. And we're very concerned that they should develop a high degree of self-confidence and feel ready, when appropriate, to express themselves on the social problems we bring to their attention – everything from the protection of the environment, where we've got a good case study to hand in Prince Albert's campaign for the bluefin tuna, to the role of IT in our lives, including social media. In terms of teaching material, we've selected from the very rich range available from the international bilingual curricula and we've arrived at a programme that is effective as a basis for teaching and clearly stimulating. They're learning and they're enjoying it."
École Bilingue Internationale de la Côte d'Azur
EBICA is the youngest of our international schools, opening its doors on September 18th, 2006. In at the beginning was Jayne Pirson ("I'm always explaining that I' m not Jane Pearson") who moved here after seven years teaching in Silicon Valley. "California here I come, okay, but eventually I needed to get away. It wasn't the life I wanted for my children."
Jayne has seen the school grow in size as at each
rentrée
another year is added on. Currently there are 122 on roll of which 80% in the primary section, which she heads up. "Obviously that proportion is going to change. By the way, we've got 22 nationalities with us at the moment." Jayne is fully aware that those children are experiencing something very different from what goes on in the average French primary school. "First of all, for us each child, with his or her particular talents and difficulties, represents an individual educational project. Secondly, and this is not much appreciated by the French, children have changed over recent years and can't be treated as they were 30 years ago. Their relationship with adults has changed and then there's the whole IT factor and especially social media. My time in Silicon Valley taught me that their use needs careful monitoring.
"As our name makes clear, we're a bilingual school with one of the two languages used on alternated days. Where subjects like art and music are concerned, we take an integrated approach. For example, some classes have been studying Jules Verne's
Around the World in Eighty Days
which offered scope for work in several areas, from painting and song to history and geography. In all our work we want our pupils to learn and at the same time have the fullest opportunity to express themselves."
Finally, with obvious pride, Jayne showed me the school's brand new premises, just opened. "We did a great job in the old building, no doubt about it – but this is marvellous."