This issue we look at apps about returning to school or work now that the summer break is well behind us.


OFF TO SCHOOL...
Language
French Basics. (iTooch - Les Bases du Français) 4,99 €

If your child is struggling with French at school this little app is a fun way to bring him up to level. Presented in game form it can even become addictive for parents. The App teaches French grammar, spelling, verb forms and vocabulary in a child friendly way. A bit pricey at €4.99 but well rated by French teachers and parents. iPad compatible. Fr.
http://itunes.apple.com/fr/app/itooch-les-bases-du-francais/id421862746


French Spelling (Orthographe CE2) 4,99 €

If your child is entering CE2, this App should help with the pesky business of French spelling, accents, subject/verb conformity and conjugation. iPhone and iPad optimised. Fr.
http://itunes.apple.com/fr/app/orthographe-ce2/id446091509


Larousse Dictionnaire Anglais/Francais 4,99 €

250,000 words and expressions. 400,000 translations in both directions. 3000 abbreviations. Idiomatic expressions and proverbs.Conjugation. All of this without internet connection. iPhone and iPad optimised. This App is an investment for all the family. Also pronounces the words and phrases. iPhone and iPad optimised. Fr. En.
http://itunes.apple.com/fr/app/id338712994?affId=698168

History

No child in the French school system can escape the inevitable history lessons concerning Napoleon, Louis XIV and Joan of Arc. These three Apps from educational editor "Quelle Histoire" make French history a little easier on the brain cells.
Jeanne d'Arc 2,39€
http://itunes.apple.com/fr/app/jeanne-darc-quelle-histoire/id520110024
Fr. En.Ge. It. Sp
Napoleon 2,39€
http://itunes.apple.com/fr/app/napoleon-iphone-version-quelle/id535786096
Fr. En.Sp
Louis XIV 0,79€
http://itunes.apple.com/fr/app/louis-xiv-quelle-histoire/id483630918
Fr. En.
Mathematics
Multiplication tables (Les tables de multiplication avec Gulli) 1,59€

Maths are language independent but this one uses French terms to teach simple multiplication tables with a game-like interactive interface. Fr.
http://itunes.apple.com/fr/app/les-tables-multiplication/id444439614


Simple Geometry. (On tient la forme !) 2,39 €
iPad compatible. The basics of elementary geometry using a farm and its animals. Very basic but good for "maternelle" and first year primary students.
http://itunes.apple.com/fr/app/id477543407
Fr.En.
AND BACK TO BUSINESS
VAT Tool. Free App.
If you struggle with "off the top" or "from the bottom" TVA/VAT calculations this is one for you. Calculates the TVA amount from a tax-included price (TTC) or the tax-excluded price (HT) from a tax-included (TTC) price. Select in-app VAT from among the rates for 59 different countrie or enter your own rate if you don't find the rate you need (such as special French construction rates at lower tax) . Essential! Fr.En.
http://itunes.apple.com/us/app/vat-tool/id425126917


Invest in Côte d'Azur. Free App.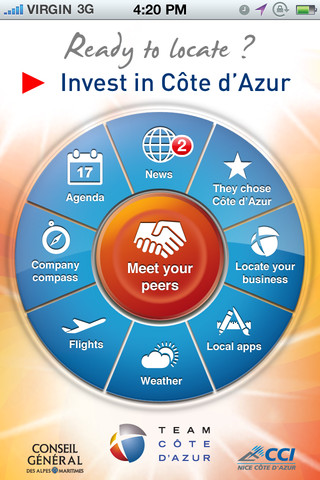 Team Côte d'Azur, the economic development agency offers up its own App with several functions. "Meet your peers:" enabling business networking. Latest economic news. Investment case studies. Practical information and services offered by Team Côte d'Azur. For iPhone but iPad compatible. Entirely in English.
http://itunes.apple.com/fr/app/id472316086


CCI Nice Côte d'Azur. Free App.

From the Chambre of Commerce. Local business news, trade shows, businesses for sale, useful contacts and addresses. For iPhone but iPad compatible. In French only.
http://itunes.apple.com/us/app/id432052226


Banque Populaire (Cyberplus). Free to BPCA clients.
You can't be in business without using a bank and this App means you can take your BPCA Cyberplus account with you wherever you go. Consult your balance in iPhone or IPad. report a stolen or lost bank card or cheque book, get emergency numbers, find the nearest cash point. Fr.
http://itunes.apple.com/fr/app/cyberplus/id408871253
Caisse d'Epargne and Credit Mutuel also offer similar Apps.
EATING OUT FOR BUSINESS OR PLEASURE


For that welcome break from work or school. GourmetGuides 0,79€

There's nothing like a nice restaurant meal for a relaxing break but do you know what Italian or French dish you're eating?
This app translates dishes and culinary terms between English, French, Italian and German. It aims to avoid those sometimes comical translations often to be found even in the finest establishments and removes doubt from menu terms.
Can be used off line and contains more than 2000 food definitions, not just merely translated into English but often explained in more detail.
iPad compatible.En. Fr. It. Ge.
http://itunes.apple.com/us/app/gourmetguides/id504945676