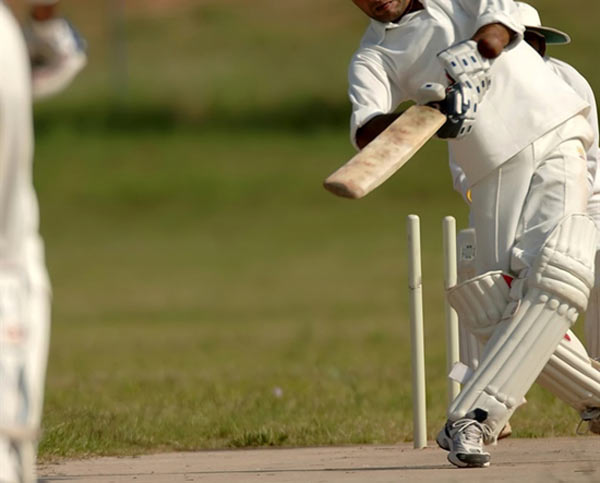 Quite apart from the respectable theory that cricket may have originated in northern France in the 13th century, cricket on the Côte d'Azur has an odd enough history; amidst all this summer's razzmatazz surrounding the Promenade des Anglais (see "
Jonathon Brown's art at the Musée International d'Art Naïf in Nice
" from last issue), we rue the fact that in Victorian days the Anglican Church had a cricket ground on the Prom – imagine if they hadn't sold that off! — and that the little fishing harbour by the rock in Monte Carlo, now submerged under Carrefour-Fontvieille, was where the gents played their cricket in those days too. But that was long ago, and now is now.
So, it was a great thing to be up at St-Vallier-de-Thiey on July 11th, 2015, to celebrate the quarter century of the Riviera Cricket Club at their field just outside the town. The club started in Cabris all those years ago, with a sackcloth mat unfurled from a rusty gold-coloured Honda on the village green. What with the pub on the corner and the shade of trees all round, it had a charming villagey feel to it, but occasionally native villagers got a feel of the ball as they walked the dog, and a safer more secluded spot had to be found. Hence the field at St-Vallier.
As with all clubs there have been good times and difficult times, but, like some great Test innings that builds and builds, the club has a rosier future now than at almost any other time. The internet has helped chivvy people up efficiently, whereas in the old days it was a spatchcock catalogue of landlines and faxes, and the club is now properly sponsored by Bluewater Yachting and Ace of Spades garden services A new mat wicket has all but removed the horrific capricious bounce of yesteryear and the presence of Colgan's draught ale from Mouans-Sartoux at the celebration day gave the perfect froth to the reunions.
The reunions were touching: the passage of time and the idea of age were on everyone's mind as there was so much talk of Roger Federer's "age" as a possible obstacle to his eighth Wimbledon title – as indeed the next day it proved. But there was the cricket club's founder, Ivar O'Brien, nearer three times Federer's age and happy to clutch a pint rather than a tennis trophy. We missed the likes of Daevid Fortune, also a founder when then a figurehead on Riviera Radio and now a sponsor of the club, but old familiar faces reappeared (one even from London) and the call was heard to have such an event annually. That's why one chants "Many Happy Returns", after all.
The current President, Brian Ranger, is upbeat, "The future of Riviera Cricket Club is assured. Membership is on the up and, while we're always looking for new members young or old, we're able to put out a good team. Our current sponsorship has allowed us to renew the pitch, build a storeroom at the ground, purchase a motor-mower and buy new kit. There is continuing interest from UK cricket clubs to come on tour to us and we have close links with our neighbouring cricket clubs in Beausoleil and Entrecasteaux. We hold weekly net practice during the season, which helps members improve their performance. But above all, there is a friendly and lively fellowship within the club that assures its future. We have fun, that's the thing."
See www.rivieracricket.com