In our ongoing series on Short Breaks, Nancy Wilson visits Helsinki, Finland - a three hour flight from Nice
Let's start off with a little trivia: what country has the longest day of sunlight and is home to Santa's village? A bit of a no-brainer that, Finland. Next question. What country hosts the Wife Carrying Championships, observes Sleepy Head Day (where the last person out of bed is woken unceremoniously by being thrown into a lake) and is the tango capital of the world? The answer is ... Finland, again. Incredibly, this Nordic country claims the tango "belongs to Finland just as much as skiing and the sauna"; whereas the dance has had a comeback since the Sixties in parts of the world like Argentina, apparently the Finnish tango - their "beloved dance" from the 1930s - never left the homeland. Considering the severity of their winter, is it any wonder Finns dance cheek-to-cheek to generate a little heat?
The week before my trip, I ran into a friend who having just returned from Helsinki immediately forewarned me that the weather is lousy, the language is impossible and the Finns are, well, Finnish. Her advice? Take a ferry to anywhere as soon as I land. Not exactly inspiring but having spent a week on the island of Corfu last fall, nothing could be as insufferable. And I was right. Helsinki's a hip, vivacious European capital with a mixture of sophistication and modernity. Between Wi-Fi and Koskenkorva (the vodka-like national drink, 38% proof), the city is lit up 24 hours a day. It might have been the sunshine and 30℃ temperatures during my stay but I'd like to believe that Helsinki is an inviting destination, whatever the season.
Tongue and congeniality
The language: legend has it the Devil himself once tried to learn Finnish and gave up in despair. It's one of the most difficult languages to learn, yet remarkably easy to pick up a few cordial words straight away.
Hai
(pronounced "hey") is hello, and
hai, hai
is goodbye.
Kittos
(like "keytoss") is thank you. Apart from that, stick to English. Of the country's 5.2 million inhabitants, 92% speak Finnish, with Swedish second at 5.5% but almost everyone speaks impeccable English.
The people: "Finns are friendly, reserved at first but not rude," Vappu Vauhkonen of Helsinki City Tourism told me. "I would also say open-minded. Finland was the first European country to allow women to vote in 1906." I'd have to add quirky (you'd have to be to eat reindeer tongue or bear hunter's sauté) and law-abiding - under no circumstances do they jaywalk. "We do tend to follow the rules here," Vappu laughed.
I met up with native Camilla Hed and her Canadian boyfriend Matthew, both graduates of Mougins International School, who set up "So Ihana" - an interior decorating store - a year ago in Helsinki. Having lived in Canada, Ireland and France, Matthew, 24, finds his new home a challenge. "Most Finns never live far from where they grew up, so they have tight-knit groups of childhood friends which are quite closed to outsiders. They keep to themselves and are quiet until they've had a few drinks - it's unbelievable how drinking is such a part of the culture for all ages here - then they quickly lose their inhibitions."
Day-tripping
With a population of 560,000, Helsinki's an uncomplicated city to navigate, even for me. I stayed close to the historic centre and stumbled across Cafe Strindberg, a local haunt for politicians, Hotel Kämp - celebrating 120 years - described as one of the places you must stay before you die and Fazer, the country's oldest chocolate shop founded in 1891, all within a few blocks of each other. Intermingled is Helsinki Cathedral in Senate Square, a splash of neoclassical architecture, and Uspenski Orthodox Cathedral, the largest in Western Europe built in 1868. The super-sleek Nokia shop warrants a gander as does the City Museum.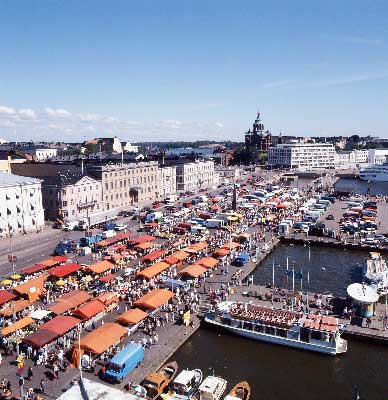 Market Square at the waterfront is typical, selling leathergoods, souvenirs and traditional foodstuffs (and fish fries if you're brave enough). Two seasonal markets to note: in October, the popular Herring Market which dates back to the 18th century, serves up fresh Baltic herring; in December, the Tuomas ("Thomas") Market in Esplanadi Park, just above Market Square, sells home-made
glögi
, spiced cakes and other regional delicacies. Don't fret, booths are heated during the winter months.
Near the market is the hugely efficient and resourceful Helsinki tourism office (
www.visithelsinki.fi
). "Last week we had 3500 visitors pass through our doors in one day. That's a record for us," Vappu told me." But as Helsinki is a favourite stop for Baltic cruises, five ships docked at the same time - that's 10,000 visitors in the city centre."
Helsinki was recently voted the best transportation by EU members, so getting around is a breeze. The Helsinki Card, starting at €33 for 1 day, gives you a €25 audio city tour, free entry to all major sights and museums and a free "surprise gift" at Stockmann - Europe's largest department store where "If you can't find it, you don't need it". It also allows unlimited public transport including a 15 minute ferry to Suomenlinna Sea Fortress - one of country's "greatest cultural treasures" and UNESCO recognised - built in the 1700s when Finland was part of the Kingdom of Sweden. Also making the World Heritage List is one of the newer EU members: Tallinn, Estonia - a ninety minute ferry from Helsinki.
For die-hard culture fanatics, the Pub Tram trudges by the city's main attractions: parliament buildings, Linnanmäki Amusement Park (where the 50 year old wooden rollercoaster is still the most popular ride), the Opera House ... while passengers drink on- board. Or a "Coffee Break in a Finnish Home" arranges a visit to a Finn's house in Kruununhaka, one of the oldest quarters downtown. An indispensable website -
www.helsinkiexpert.fi
- lists daily a calendar of events and tour departures times.
Only in Helsinki
I couldn't resist chilling out in a parka, gloves and boots at the Arctic Ice Bar. Sipping my €10 mango vodka in a -5℃ ice-sculpted vault reminded me of a Canadian summer. Ten euros for one drink may seem steep but Helsinki is 25% more expensive than the Côte d'Azur although the quality of food and service makes it less grimacing. A consensual enjoyment of Koskenkorva exists amongst the Finns but roaming the streets at 3am (bars close at 4), there is none of the gratuitous violence associated with binge drinking in the UK, where according to a recent
Sunday Telegraph
article, one-third of Brits are afraid to go out at night. "I feel safe at three in the morning walking around the city centre" was a phrase I heard more than once, by men and women. On the last night, my friend's passport unknowingly fell out of her purse in a fast-food dive (blame it on the vodka). When in a state of panic she retraced her steps the following day, she found it at the till. I cannot imagine that happening in many cities. As for me, I was rather taken aback when an inebriated Finn propositioned me with €120 from his hand as he swayed back and forth ... the startling part, of course, being such a low offer.
"I like Helsinki," Matthew in the end decided. "It's as modern as other capitals like Paris and London, but being so small, its the kind of place that if you spend a week here you'll know the whole city. I do miss how lazy life is in the South of France, though. You can take your time having lunch in the sun with a glass of wine knowing you're in no hurry to do anything because nothing is open anyway."
HOW TO GET THERE: As a first time flyer with Finnair (
www.finnair.com
), I'd rate the overall service and meals as superior. The carrier flies twice weekly Nice-Helsinki direct, amongst other stopover flights across the week. Finnair also runs an excellent airport shuttle service to
Rautatieasema
, Helsinki's train station. Running every 20 minutes to/from platform 30, the fare is €5.20 or €3.60 with a Helsinki Card.
WHERE TO STAY: I was a guest at the exceptional Sokos Hotel Torni (
www.sokoshotels.fi
) located in the heart of Helsinki. Built in 1928, the hotel's 152 rooms have recently been renovated and offer three distinct styles Art deco, Art nouveau and Functionalism. The traditional buffet breakfast with its one-touch Latte Macchiato is first-rate. Two perks of Sokos Hotel Torni: the adjacent Escape Day Spa and the trendy Ateljee Bar, the panoramic rooftop terrace opened since 1951. For the best seat in town, use the women's toilet.
From Riviera Reporter issue 123