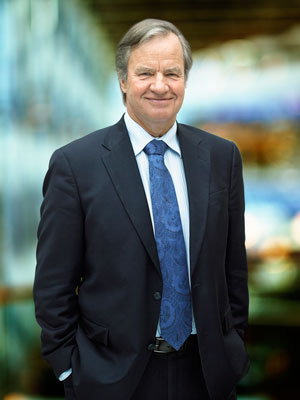 First there was Stelios, then Michael O'Leary, and now a craggy-faced Norwegian called Bjorn Kjos (pictured) is set to be the new hero of the low-cost flier.
Norwegian Airlines was created in 1993, rising from the ashes of bankrupt airline Busy Bee, and although Bjorn Kjos was one of its founders, it was not his idea.
Instead, it all started with a phone call from old friends from his time in the Royal Norwegian Air Force, where he was a fighter pilot for eight years before he left to pursue a career in the law.
"They needed a lawyer who wouldn't charge too much, or perhaps nothing at all," Mr Kjos recalls. "So they told me, 'You earn too much and work too little.'"
Over the next decade, Norwegian remained a small service provider to regional airline Braathens, until 2002 when a takeover of Braathens by flagship carrier Scandinavian Airlines resulted in its contract being cancelled.
Norwegian almost collapsed, and Kjos stepped in as chief executive and injected much-needed cash into the troubled business, becoming the majority shareholder in the process.
"I was only supposed to stay for three months," he says.
Instead, Kjos stayed on at the helm, as Norwegian rose from a position as an also-ran in the world of aviation to become the third largest low-cost airline in Europe.
The airline currently has 74 aircraft flying from several operational bases in Scandinavia, Spain and the UK to 120 destinations in Europe, North Africa and the Middle East.
Last year, it had almost 18 million customers, a number set to soar as its fleet almost trebles over the next few years, on the back of what Kjos describes as "the largest aircraft order in European aviation history" for 222 new Airbus and Boeing aircraft valued at some $22bn, signed in January last year.
Given the turbulence that has long been buffeting the world economy, such a bet might seem foolhardy, especially as it is almost impossible to predict the pace of an airline's growth in an increasingly competitive market place.
But Kjos insists it would be riskier not to order new aircraft than to do so, since rocketing fuel prices have rendered airlines with old fleets hopelessly uncompetitive.
"Just look at who's been making money in recent years," he says. "It's the low-cost carriers, and they own their fleets. The legacy carriers have suffered huge losses."
Large aircraft orders in a market dominated by just two manufacturers serve the additional purpose of limiting the supply to competitors, Kjos says.
"If you place an order now, you'll have to wait until 2020 before you can get a new aircraft," he says. "So it's better to order too many. If I find I've got too many, I'll just lease some of them to other airlines."
But it is not the predicaments of troubled legacy carriers, nor the rivalry with Easyjet and Ryanair, that gets Kjos really excited.
Rather, it is the emergence of Asian airlines such as Air Asia and Scoot, or Jetstar and Cebu Pacific.
"The Asian airlines operate with costs that are half that of Emirates and a third of Lufthansa's," he says.
Currently, there are competition restrictions in place that prevent them from competing head-on with existing carriers in Europe and North America, and "airlines that aren't competitive will lobby to prevent them from coming", Kjos says.
But that, he insists, would be futile.
Currently, nine out of 10 passengers on flights between Europe and Asia are European, but in a decade or two, that picture will have been reversed, Kjos predicts.
"The wave will come from Asia, where the new competitors are, not the other way around as it is today," he says, predicting that this will soon result in a global Open Skies agreement that will in effect remove any measures that currently keep the Asian rivals out.
"The influx from Asia offers enormous potential in terms of mass tourism and thousands of jobs. The flow will be so large, you simply cannot afford to stop it, so politicians won't say no to global Open Skies merely to save a few airline jobs."
To make sure Norwegian stays in the game, Mr Kjos has decided to compete in the low-cost long-haul market, initially with direct flights from Scandinavia to New York and Bangkok, then over time through a yet-to-be-established Asian subsidiary.
"We're saying it's way too expensive to fly long-haul today, and we're doing something about it," he says.
"Asian low-cost carriers will dominate the fast-growing low-cost long-haul sector, so if you're going to compete in the future, you have to do like the Asians. You have to be there," he continues, pointing to the importance of cost-cutting.
Kjos' vision — accompanied by statements such as "in Asia, people in aviation have a tenth of the salary in Scandinavia" — has created tension with both pilots, cabin crews and even the government at home, but he insists he has no choice.
"There has to be a reshaping of Western airlines, otherwise we will be outcompeted by the Asians," he says, dismissing his critics.
"They can't see what's coming. They don't want to see it."
Starting this week, Norwegian have flights from Nice to London Gatwick from €33. See
www.norwegian.com
. Free wi-fi on most flights.
Based on an interview with Jorn Madslien, Business reporter, BBC News