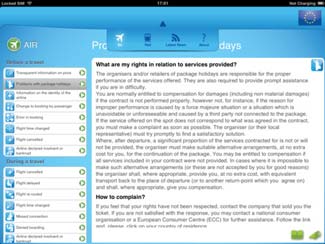 The European Commission has a free
passenger rights app
for air and rail travel. Now if you're stranded at the airport you can instantly know your rights.
Meanwhile, the EU's recently-proposed new rules regarding flight delays, rerouting, compensation and baggage handling for air passengers, set to become law in 2015 upon approval by EU states, have been described as the "biggest shake up of air passenger rights since EU aviation rules were introduced eight years ago".
"It is very important that passenger rights do not just exist on paper," said EU Vice- President Siim Kallas. "The aim is to get passengers where they want to be as quickly as possible while giving the airlines the time they need to sort problems out."
Here are some key points:
Passengers with delays of more than 12 hours will have to be rerouted by another carrier if their airline cannot put them on another of its own flights.
"Extraordinary circumstances" for compensation has been clarified as natural disasters and air traffic control strikes, and not "technical problems" from a routine maintenance check.
Airlines will be required to inform passengers about delays and provide an explanation within 30 minutes of the scheduled departure time.
If a plane is boarded and sits on the runway for more than 5 hours, passengers will have the right to demand to be let off. If the delay is more than 1 hour the airline must provide air conditioning, use of toilets and water.
Compensation after a minimum 5-hour delay (currently three) on any flight within the EU or international flight less than 3500km.
Compensation for international flights up to 6000km after a delay of 9 hours; after 12 hours for longer journeys.
Airlines will no longer be able to charge for correcting misspelt names on tickets.
Passengers may not be denied boarding on the return flight of their ticket on the grounds that they did not take the outbound part of the return ticket.
Musicians will be allowed to bring smaller instruments on board, while for transporting larger instruments there must be clear terms and conditions about the cargo hold.
For more see
www.europa.eu