During the Mitterrand years, France learned just how fiscal greed can be catastrophic to a vital and mobile local industry like yachting. A socialist-inspired tonnage tax saw Riviera yachts fleeing to more tax friendly havens like Spain and Italy. By 1984 Riviera ports had emptied of their largest clients. Faced with lobbying from the industry, the government of the time made a spectacular U-turn and many of the big yachts returned thanks to the action of yachting professionals like the Voisin family.
The lesson was learned but perhaps too well in the view of other EU nations with a current interest in attracting megayachts and the megacharter business that comes with them. Most Mediterranean countries apply VAT to charters originating in their waters and reduce the tax by a forfeit to compensate for the time a yacht is expected to spend outside their national boundaries. The forfeit varies considerably from country to country with some applying as much as 95% and thus reducing the tax burden on charters to only 5% of the normal rate of VAT. Other countries apply 40 to 60% coefficients.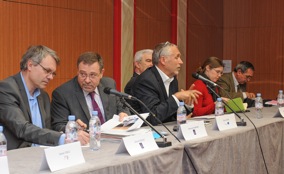 Surprisingly, France has been the most favourable, applying no TVA on some specific cases - a situation not appreciated by our Mediterranean neighbours. In the words of Thierry Voisin at a recent conference on the subject (pictured), "We can't expect to have this situation forever. Our best bet is to negotiate the best deal we can with the authorities in Paris." The conference gave Thierry its unanimous backing to defend the interests of the profession with the administration. Negotiations won't be easy, but Voisin's past experience will be indispensable in procuring the most favourable rate possible.
So what now? The prudent option for the moment is to apply French TVA to charter fee estimates and hope for a welcome surprise when the penny drops. Our advice to charter captains is to work through reputable brokers such as Blue Water and to trust their advice.
A few links to guide you:
Voisin fiscal advice
http://www.thierryvoisin.com/pages/fiscal-advice.cfm
Blue Water Yachting
http://www.bluewateryachting.com
ECPY - European Commission for Professional Yachting
http://www.ecpy.org
This email address is being protected from spambots. You need JavaScript enabled to view it.
PYA - Professional Yachting Association
http://www.pya.org/lobbying
This email address is being protected from spambots. You need JavaScript enabled to view it.
MYBA : Yachtbrokers Association
http://www.myba.net
This email address is being protected from spambots. You need JavaScript enabled to view it.