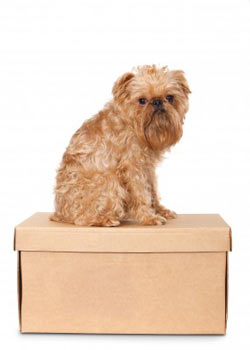 A
travelorg
survey in 2009 showed that nearly 50% of US leisure travellers consider their pet to be part of the family and 18% usually take their pet with them when they travel. If you're moving or travelling and want to take your dog, Transports Mari in Nice now handles all the veterinary, administrative and customs formalities, as well as providing comfort and safety while transporting your pet.
Christophe Mari: "We have an established reputation for moving and shipping but we are the only certified specialist offering pet transport services. Pets must travel in suitable containers as required by your chosen airline, and be able to sit and turn around and have water in accordance with IATA regulations. The minimal documents you'll need are the
carnet de santé
and rabies vaccination certificate, however, each country has specific regulations – for example, veterinary inspection at the airport and necessary import permits. From preflight to arrival, we'll take care of it all."
To calculate the size of a travel container your dog would need, go to
www.transports-mari.com/animaux.html
; for advice on bird, reptile, and even hamster containers, contact Transports Mari directly.
A reminder also that as of 1 January 2012 the UK Pet Travel Scheme changed. In accord with other EU countries, all pets still need to be vaccinated against rabies but will no longer be subjected to quarantine. Says Environment Secretary Caroline Spelman, "The UK's quarantine system was designed to combat the threat of rabies in the 19th century. It's time we changed these outdated rules which have caused hardship to generations of pets and pet owners, with too many animals cooped up unnecessarily." Pets can now enter and re-enter the country from the EU and listed non-EU countries, such as the USA and Australia, without a blood test and will only have to wait 21 days before they travel. See "Travelling with Pets" at
www.defra.gov.uk