My good friend Domi in London has a Bichon Frise named Timmy. Timmy became famous around the world about five years ago when he married Muffin in a rather lavish affair at Harrods in London. (I kid you not:
see here
).
Unfortunately I had to RSVP unable to attend, as a previous engagement to lunch with Prince Albert in Monaco took precedence. At the time, I was a stringer for People magazine and while Timmy and Muffin were enjoying a post-nuptial horse-drawn carriage ride, I, along with a dozen others international journalists, was granted an audience with the Prince, an informal and approachable man. I had to leave at 3pm to catch an easyJet flight to London, where Domi, after sending her Timmy off on a honeymoon to the Paw Seasons, was joining me on a chartered ThomsonFly flight to Corfu, or as I refer to it now, a British trailer-trash hellhole. It was an ideal conversation opener at the Palace joking that I had to chose between an intimate lunch with His Serene Highness or witnessing my friend's dog wedding at Harrods, which was followed by my audacious excuse to leave early to get to the airport. I felt like the ultimate jetsetter on top of her game: £10,000 Harrods dog wedding of my nephew dog, a royal meal with the Prince of Monaco, followed by a holiday in Greece. To this day, the contrast of that moment to the uncouthness and uncultured Corfu is not lost on me.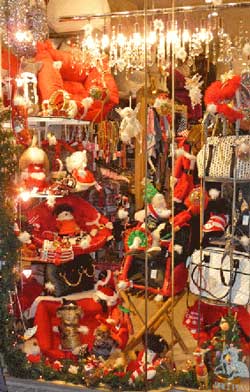 Back to dogs, Timmy's wedding was my first real glimpse into the world of dog pampering and accessories, a world far from the days of my childhood when my Mom made plaid coats for our schnauzers to keep them warm during a Toronto winter. In fact before I was a dog owner myself, I would frown upon a dog in France wearing a jacket or sweater, and question the owner's right to have a dog. Now things are different. No, I don't dress my pup in outfits to match mine, but I do appreciate the desire to pamper or spoil your child, I mean dog.
So with Christmas around the corner, and my first with Crousti, I want to make sure that I get things right. Who better to advise me on what a dog needs then Marianne Israel, a Dane who has owned Star Dog & Cat Boutique (pictured; tel 04 93 82 93 71) at 40 rue de France for 13 years. Marianne has clients also in Miami and tells me that Americans will fly their dogs on a private jet across the country to Miami for a haircut, and a dog bar mitzvahs is not unheard of. The French on the other hand are more classic in what they buy for their dogs, and usually it's something can be used. While Americans don't pay much attention to cost, the French certainly do. So what are the most popular dog gifts in France?
Top Dog Gifts for under the Christmas tree
1. Toy (€10).
Dogs loves to chew and so there can never be enough toys (at least that's my excuse). Squeaky plastic or stuffed toys are always a hit, and there are themed Santas and chewable plush toy drums, for example. For the technically hip dog there's an iPawd and of course, you can never go wrong with Angry Birds (not available at Star Dog, and thank you Grandma in Canada for supporting Crousti's habit).
2. Christmas accessory (€30).
There are plenty of clothing options from a "smoking" (tuxedo) tie-on top to various Santa outfits to red sweaters and coats. If you want to turn your dog into a reindeer for the season, that's possible too, with a slip-on headband (as Crousti models top).
3. Decorative collar (€30).
This is the equivalent of giving jewellery and while some owners bare no expense and opt for a diamond collar, most of us mortals pick something rather more affordable.
Crousti has already received his first Christmas gift from his Aunt Nancy in London:
The Dog That Saved Christmas
DVD. The joy in watching him tear open his gift excitedly brought tears to my eyes. Of course, once he stopped eating the paper, ever the well-mannered dog, Crousti gave his Aunt a thank you wag and blew her a kiss (more in the form of a lick). Of course, I have to teach the dog that the spirit of Christmas isn't about getting gifts but that'll have to wait until he's finished playing with his new post-birthday pre-Christmas toy.