In our series on short breaks from Nice, Nancy Wilson visits Barcelona
Over the past year, article after article on Barcelona has popped up in the press - from the Sunday Times to the Trib - mostly by journalists looking for that ultra-hip angle to differentiate their travel piece from all the others plugging this Mediterranean city. Either these writers are hugely under-exposed to travel or I went to the wrong Barcelona. In 2003, according to Lloyd's Cruise International, Barcelona was Europe's leading cruise harbour for the third year running, berthing 712 cruise ships with 1,040,000 passengers. Perhaps as a result of such acclaim the Turisme de Barcelona found it needless to assist me on this trip. Their lackadaisical attitude, I'm sad to report however, was marginally better than the general disgruntlement I came across during my stay in the Catalan capital. This unfriendliness surprised me. Esther Jones of the expat magazine Barcelona Metropolitan (www.barcelona-metropolitan.com) described Spanish shopkeepers as rather standoffish but could they possibly be less service-oriented than the French? Well, yes. And what about the 50,000 or so full-time English-speaking expats? "They are more buried in their own lives," Esther told me, "than in that of the expat community."
Famous pedestrian avenue
The massiveness of Barcelona also astounded me although orientation in the city is facile: the famous pedestrian avenue - La Rambla - begins beside the sea and runs north to the Plaça de Catalunya. It divides Barcelona between the old city to the east - Barri Gòtic - and El Ravel to the west where ethnic diversity is colourful but caution is advised for tourists. Located in the heart of the city, the tree-lined La Rambla is home to musicians, mimes, painters and human statues blending themselves amongst the flower stalls, bird vendors and the not-to-be-missed Boqueria market. This 18th-century covered market is a spectacular display of comestibles - nuts, produce, fish, cheese - and afterwards you can unload your market bags at one of La Rambla's many cafes and people watch. Try to avoid Cappuccino's Cafe across from the Boqueria - never before have I been treated with such callous disrespect. Must have been my hostile Canadian accent. To the right of La Rambla, you'll discover a myriad of cobblestone streets concealing pubs, bars and shops which is known as the Raval district. Venture further east into the mediaeval Gothic Quarter and see the Catalan Gothic-style Church of Santa Maria del Pi - said to have the world's largest 12-sided rose window. Close by in the Jewish quarter are Barcelona's intriguing book and antique shops on La Palla. Head over to Cathedral Square to visit the spectacular, you guessed it, Cathedral. Dedicated to the Holy Cross and Saint Eulàlia (former patron saint of Barcelona), it was built mostly from 1298 to 1459 and was easily my favourite part of the trip. The Museu de la Xocolat (Chocolate Museum) and the city's most visited museum - Picasso - are also nearby.
'Virtually' finished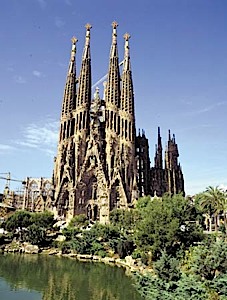 Even for the architecturally challenged, Gaudí is what Barcelona is all about. Born in 1852, Antoni Gaudí i Cornet was considered a national hero and La Sagrada Familia, his most famous work, is one of the city's most emblematic monuments - visited by over 2 million people in 2003. Construction started in 1883 but came to a halt in 1926 when Gaudí was run down by a tram who mistook him for a tramp. Now, after more than 120 years, La Sagrada Familia is being "virtually" finished by 38-year-old film maker Toni Meca for a soon-to-be-released feature film. With the help of 150 architects, sculptors and computer designers the notorious cathedral will at long last be completed for the world to see in the film Glory Day. No Gaudí circuit would be complete with-out a stop at Park Güell, situated 150m above sea level on Mount Carmel. Originally to be modelled after an English-style garden with 60 one-family houses, only two homes were built, one of which Gaudí lived in himself from 1906 to 1925. Park Güell offers a fabulous panoramic view and was declared Patrimony of Humanity by UNESCO in 1984 (Barcelona, by the way, is the only city in the world with five World Heritage Sites).So other than Gaudí and a mild climate, what else does Barcelona have to offer? It has Europe's biggest open-air shopping centre: the Shopping Line is made up of 35,000 shops stretching 5-km from the harbour to the uptown Diagonal district. Plus, the Daily Telegraph cites Barcelona as the only city outside of France to be named with the culinary distinction of a Gourmande city in 2002. (Note though that lunch is served from 13h30 and dinner ... not earlier than 21h00.) Also getting around Barcelona is easy on foot or by bike and transportation is cheap. An hour-long city tour by taxi - Montjuïc Castle, 1992 Olympic Stadium, La plaza Monumental - was only €27.
The Catalan experience
I found Barcelona so one-dimensional that I tried to locate the five Starbucks spread across the city in the hopes of finding other travellers. Perhaps they were having a love affair with the city that I certainly wasn't and could somehow enlighten me. Other than pockets of American students visiting who assured me that Barcelona was a "party city", I met Australian Julia Russell who had been journeying across the country. "Barcelona is friendlier than the rest of Spain," she claimed. "If you look hard enough, you'll find the Catalan experience. Under the tourists are little places where there's continuous activity for strolling and nightlife. But they're not easy to find." A long weekend in Barcelona was like my first sighting of Brad Pitt at the Cannes Film Festival last year: pretty to look at but no depth. Certainly neither is an experience I feel the need to repeat any time soon.
WHERE TO STAY: It isn't the architecture or the decor which tells the story of the Hotel Majestic, it is the utter seriousness with which the staff perform their duties. Their moves and movements are aimed at one thing only: to tell clients that they are there to make their lives easier, in this case by transporting them backwards to an age of elegance and grace which is no more. Located in the heart of Barcelona, the Hotel Majestic is within minutes to La Rambla, the Gothic Quarter and Gaudí monuments.
HOW TO GET THERE: I flew to Barcelona courtesy of Iberia Regional/Air Nostrum who fly twice daily (except Saturday) from Nice. Founded in 1994, Air Nostrum reached a franchise agreement with Iberia forming Iberia Regional/Air Nostrum in 1997 and growth has increased steadily from 260,000 passengers in 1995 to 3.6 million in 2003. Iberia Regional/Air Nostrum won both the Mercury Award for its in-flight service and Flight International Magazine's "Flight International Award" in 2003. It was also named "Company of the Year" by the European Regional Airlines Association in 1999/2000, 2002/2003, and 2003/2004. Unfortunately Iberia's name still lives up to its reputation: discourteous. As an example, when I asked to use the toilet on the flight over, the flight attendant replied, "Can you wait? That's where we keep the newspapers."
Riviera Reporter 107: Feb/March 2005